Organize your jewelry
These are our top tips for organizing jewelry! We must say it is quite a pleasure when all our necklaces, earrings, bracelets and watches have a nice place to call home and we think you'll agree. Whether you wish to put yours on full display or contain them away, take a little time to create a solution that works for you. Getting dressed will be that much easier!
Pretty display
Get creative with your jewelry collection and display it as a feature wall! It's pretty so you'll actually want to see it as you walk by. You could do a simple DIY project with a couple of branches and twine. Or with a bit more effort, construct a white-painted wooden board with a couple built-in shelves and a hanging rod. Or go for a decorative multi-rod gold-painted hanger. Whichever you choose, the result will be a bohemian, Free People kind of feel!
Arrange in drawers
Drawers make a great place for jewelry - they can be outfitted with velvet-lined trays to divide and conquer jewelry! Either line the entire drawer with velvet/felt to make a large area for laying things out, or use divided trays in configurations that specifically match your needs. If you're not using traditional trays, you could make your own dividers with small glass bowls and ceramic egg cartons! A key point: you don't want your jewelry sliding around on open areas of wood or plastic - they're slippery and jewelry won't stay in place.
Stackers Medium Expandable Necklace Trays, $40 at The Container Store
Great trays perfect for inside of drawers - they expand to fit!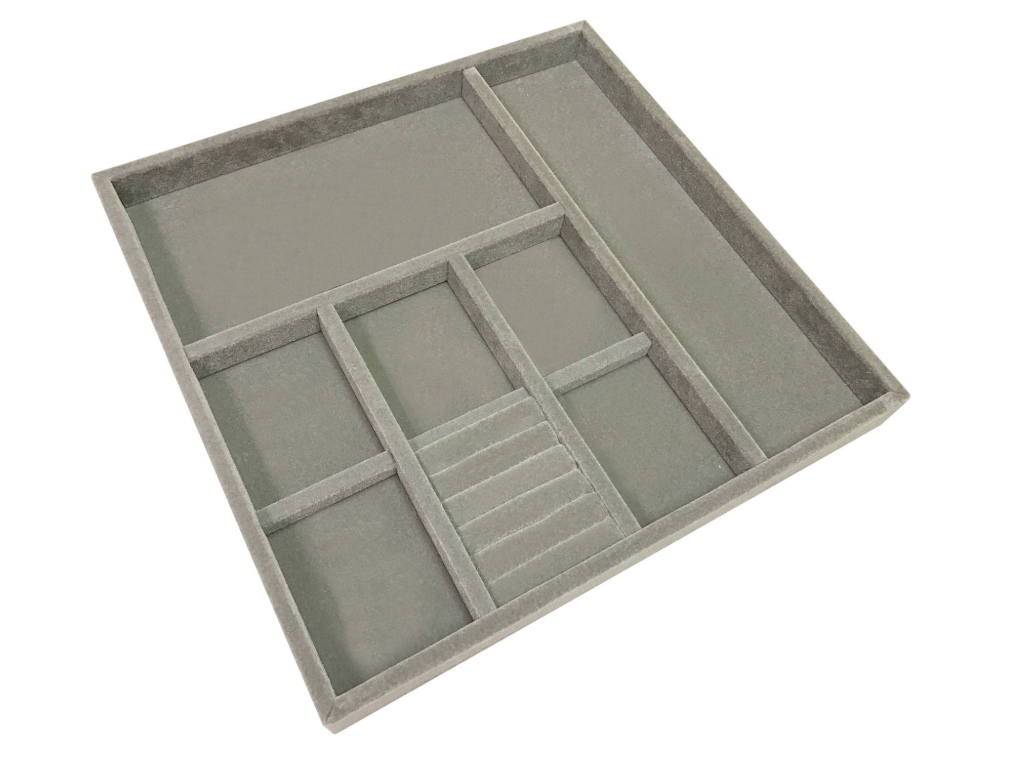 Velvet Jewelry Tray, $120 at Houzz
These are excellent jewelry trays with velvet lining - they come in 4 sizes!
Mink Supersize Stackers Premium Stackable Jewelry Box, $30-$40 at The Container Store
The Container Store sells these trays that can be used inside drawers, individually or stacked on top of each other - there are color and design options.
Home Basics 15 Compartment Jewelry Organizer, $27 at Hayneedle
A simple tray that may be all you need if you don't have very much jewelry!
A jewelry box is a classic choice and we love the options available today! They come in stackable, modular varieties to accommodate one's often-growing collection. Interior compartments divide up your jewelry to ensure nothing gets tangled or damaged. Plus, they're pretty enough to leave on a dresser top or closet shelf!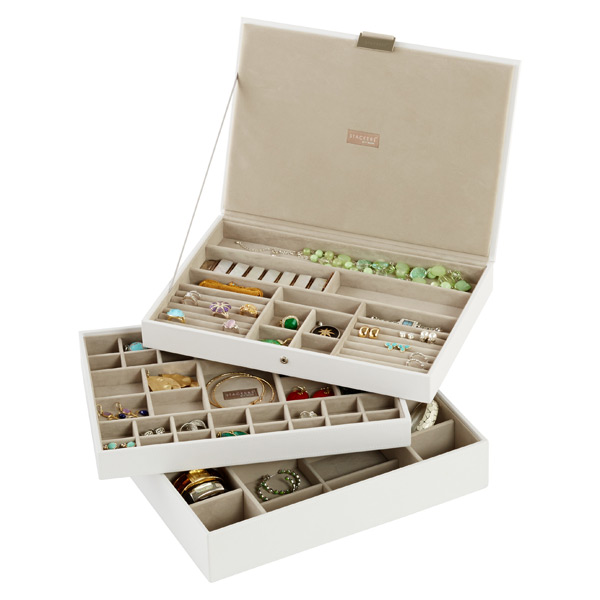 Supersize Stackers Premium Stackable Jewelry Box, $30-$40 at The Container Store
An all-time favorite! With a luxurious feel and large capacity, we absolutely love these. You buy each tray separately and then stack them to make a customized jewelry box (or use the trays laid out in a drawer)!
Chloe Large Jewelry Box, $379 at Houzz
If you're looking for a really nice jewelry box for yourself (or a gift!) go for this beauty! It features cream leather, gold hardware, a mirror, an additional travel case, and even anti-tarnish lining!
Wood 24-Watch Case, $51 at Houzz
Have a lot of watches? Store them in a lidded watch box.
Antique Brass Jewelry Boxes, $15-$30 at The Container Store
These pretty glass boxes are beautiful for a visible place in your dressing area - and they'd work well for watches or sunglasses!
Closet shelves
Another way to store jewelry is by creating a display on your closet shelves! This keeps it hidden but also in full view when you're in your closet. If baubles are a big part of your fashion style, this can be a good solution since you'll get inspired and create outfits starting with a piece of jewelry. Prioritize your beauties!
Koehler Home Decor Helping Hands Jewelry Holder, $36 at Houzz
Quickly lay rings, bracelets or necklaces on these helping hands when you're getting ready or undressing at night. When they're empty they look like a sculpture!
Triple-Tiered Jewelry Organizer, $20 at The Container Store
Hold necklaces, bracelets, and watches on these tiered organizers!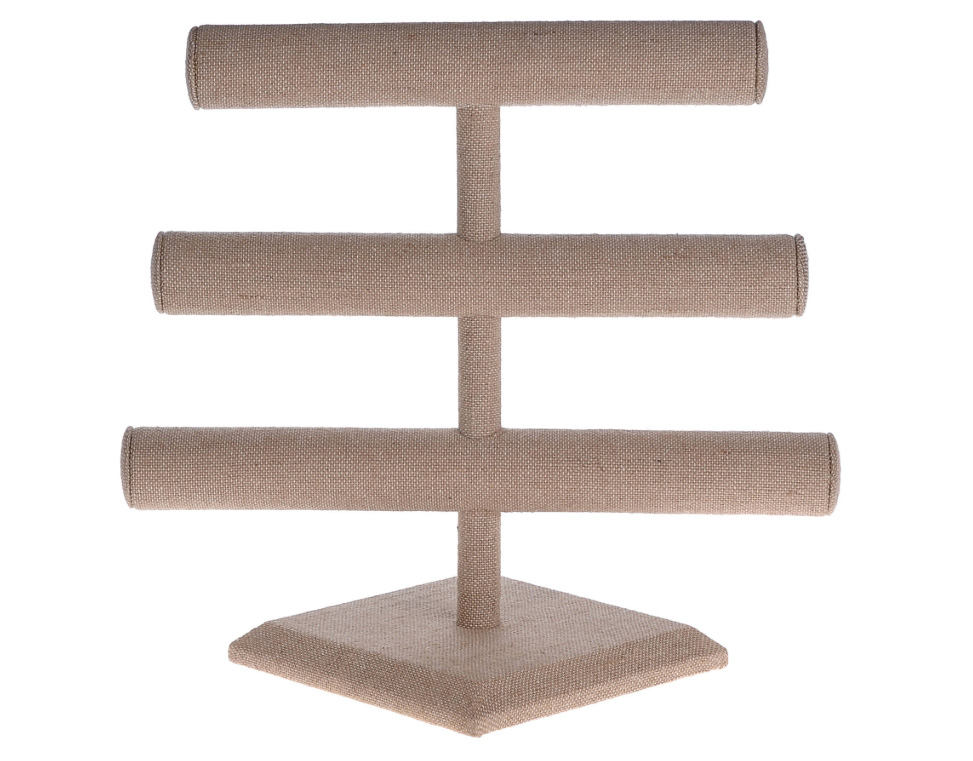 Gardena Linen 3-Tier Jewelry Organizer, $52 at Houzz
A very nice display for bracelets and watches!
Half Moon Jewelry Trinket Dish With Gold Dots, $26 at Houzz
A serene, handmade little dish to hold some rings or earrings!
Hanging Jewelry Organizer, $40 at Anthropologie
Hang up your goodies on these racks from Anthropologie!
Charlotte Wall Mounted Jewelry Organizer, $20 at Target
A cute white hanger for necklaces, bracelets, and hook earrings (they go on the center mesh).
Gateway Jewelry Hook Rack, $28 at Anthropologie
This pretty wall hanger can hold a couple necklaces on each hook.
Dark Walnut Solid Walnut Wood Wall Jewelry Organizer, $14 at Etsy
Try this simple hook hanger!
Dresser top
Make a mini display on a dresser top or other surface in your bedroom or closet. Wood, acrylic or metal jewelry stands are great for necklaces and bracelets. Try a traditional one specifically for jewelry, or transform something into one (such as a mini giraffe)! Shallow dishes work well for some rings or watches.
Acrylic Jewelry Stands, $15-$20 at The Container Store
We love how the clear acrylic of these stands allows the jewelry to stand out and goes with any decor!
Cactus Ring Holder, $29 at Houzz
Display your rings on this cute saguaro cactus ring holder!
Antique Brass Jana Trinket Box, Handmade with Swarovski Crystal, $40 at Houzz
Looking for something ornate to store a little jewelry on a dresser, or a gift? Try a beautiful box like this!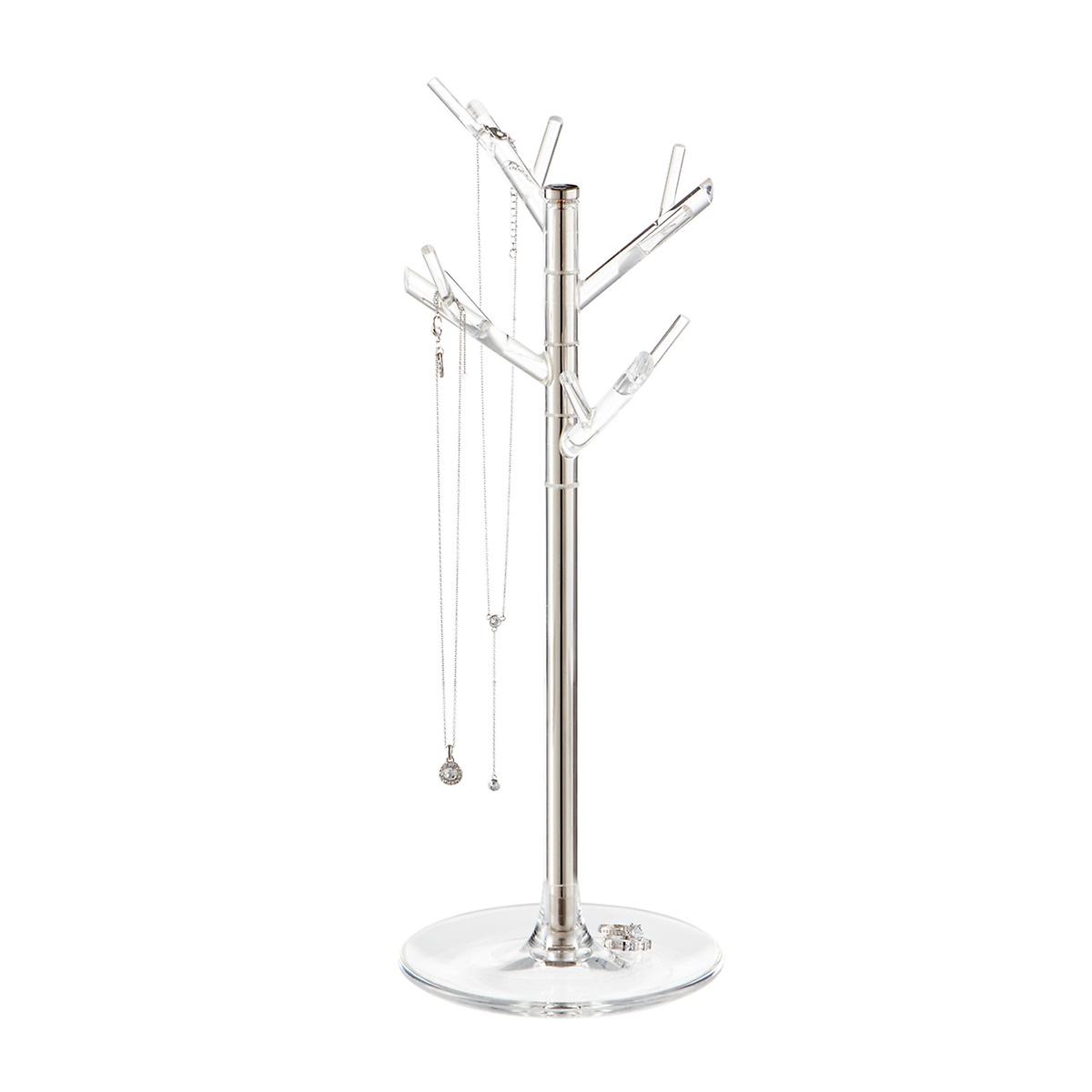 Umbra Icelet Jewelry Stand, $20 at The Container Store
The branches of this stand will hold your necklaces or bracelets, and the recessed bottom holds rings and earrings!
Jewelry armoires are so cute and they function beautifully! We love how they take up little space yet hold a lot of jewelry. Try one that looks like a gorgeous piece of furniture, one with a lidded mirror top, or one with a slim profile that attaches to the wall (especially great for small apartments).
Cherry Blossom Cream Jewelry Armoire, $343 at Home Depot
A gorgeous Asian-inspired piece with plenty of storage room!
Hampton Harbor White Jewelry Armoire, $262 at Home Depot
Classic design and simple white looks perfect!
Belham Living Mid Century Modern Jewelry Armoire, $300 at Hayneedle
A mid-century design with art deco trim, the top opens up with a mirror.
Belham Living Lighted Wall Mount Locking Jewelry Armoire, $180 at Hayneedle
Gray driftwood and a mirrored front make this a wall-mounted winner!